Animal House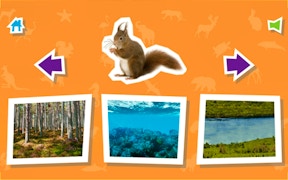 Animal House
Immerse yourself in the wild, wonderful world of Animal House, one of the most innovative animal games on the market today. Developed by Nau.kids, this game has opened up a new frontier for engaging and entertaining games for kids, effortlessly combining fun with education.
The heart of Animal House lies in its smart, challenging puzzles that invite players to explore the fascinating natural habitats of a variety of animals. It turns your screen into a virtual wonderland, where learning comes alive and every moment holds a delightful surprise.
Whether you're navigating through the lush jungles for jungle-dwelling creatures, delving into the ocean's depths for marine animals, or scaling high mountains for those that call it home, each level is carefully crafted to stimulate young minds. Learning games rarely get as immersive and interesting as this!
Nau.kids, the creators behind this masterpiece, have taken the utmost care to ensure the game is both simple yet compelling. The vibrant colors and friendly animations make every adventure feel like a thrilling expedition.
In summary, Animal House stands out in the genre of puzzle games with its captivating blend of fun gameplay and educational content. It is more than just a kids game; it's a discovery tool that awakens your child's interest in nature while honing problem-solving skills. No doubt about it - Animal House is reinventing how kids learn about wildlife.
This game is a must-have addition to any family's digital library and offers an unforgettable journey through the animal kingdom that will keep kids coming back for more.
What are the best online games?