Angry Flocks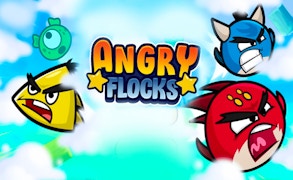 Angry Flocks
Description
In Angry Flocks, be prepared to immerse yourself in a thrilling battle against alien invasions. Our heroes, the feisty birds, are using their slingshot skills to fight off these unwanted visitors. The game takes you through 40 challenging levels where your mission is to annihilate every shelter the aliens have occupied. Each victory brings you closer to unlocking new powerful abilities.
How to play
The game controls are simple yet engaging. Utilize the slingshot by dragging and releasing it, aiming at the alien shelters. The key objective is demolishing all shelters across numerous levels. Obstacles will increase as you progress further into the game; however, your consistent victories will lead to greater power-ups and abilities that aid in combat.
Tips and Tricks
Strategize your moves, observe and plan before launching an attack on an alien structure. Exploit the special powers as much as possible for maximum damage. When facing bosses, aim for their weak spots for a quick defeat.
Features
Fantasy themed arcade game with exciting characters and captivating plot.
Skill-based gameplay: The mastery of slingshot mechanics determines success.
Epic Boss battles: Unleash your strategies to overcome powerful enemies.
Upgradeable power-ups: Gain spectacular advantages with each unlocked ability.
Absorbing levels: With 40 unique and complex stages, entertainment never falls short.
What are the best online games?
Tags