Angry Fish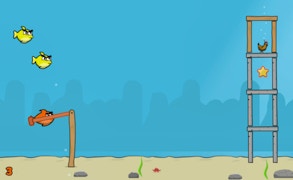 Angry Fish
Immerse yourself in an enthralling underwater adventure with Angry Fish, an exciting addition to the burgeoning genre of animal games. Exhilarating, colorful and packed with a whole school of fish full of surprises, it's a fun game that's sure to make a splash.
Angry Fish, a game tailored for avid arcade game enthusiasts, delivers addictive gameplay hooks and captivating visuals, making it one of the most enjoyable fun games on offer today. Drawing on the proven charms of popular gaming concepts, this latest dive into aquatic action pits you against an army of chickens in a quirky spin on classic rivalry tales.
(Skill Games) players will appreciate the depth offered by each fish's unique abilities. The challenge of navigating through barriers demands strategic thinking and deft maneuvers, qualifying Angry Fish as one of those gripping brain games. Each fish has its own special skills and powers that provide innovative ways to approach each level, keeping gameplay fresh and engaging.
In Angry Fish, victory is not just about defeating your avian adversaries. With 15 expansive maps to unlock by vanquishing your poultry opponents, you're also participating in an intriguing exploration quest. This constant promise of new territories provides extra motivation to perfect your fishing skills and cook up some chicken dinner!
To conclude, Angry Fish is much more than your average animal-themed arcade outing. It encapsulates the pure enjoyment factor inherent in fun games while demanding strategic skill application reminiscent of brain games. If you're ready for some piscine payback against fowl foes, dive into Angry Fish- where every day is fishing day!
What are the best online games?