Angela Twins Birth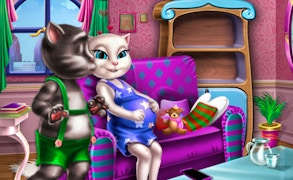 Angela Twins Birth
Welcome to the enchanting world of Angela Twins Birth, a sensational new entry in the realm of cat games, filled with adorable felines and challenging interactive elements. This game, striking a harmonious balance between animal games and baby games, offers gamers an engaging glimpse into the adventures of parenthood within a captivating feline family.
In this delightful offering, Talking Angela isn't just any ordinary feline - she's an excited soon-to-be mom, awaiting the birth of her twins. The game invites you into Angela's world, allowing you to assist her on her journey through motherhood - from calling 911 at the onset of labor, to ensuring everything is in order when the ambulance arrives.
The challenges don't end there, as you're also tasked with taking care of Angela's adorable newborn kittens at the hospital. Gameplay in these parts takes on elements reminiscent of popular operation games, as you learn how to properly change diapers before feeding time, emphasising the significance of clean environments and timing.
The 'home' stage in Angela Twins Birth sets it apart from other conventional family games, as it beautifully encapsulates elements of family bonding and affections. Here, players will help Angela navigate through her new life as a mom, ensuring that the kittens feel loved and nurtured after returning home from the hospital.
Absorbing yet endearing, Angela Twins Birth delivers a purrfect blend of cute kittens and engaging gameplay that will undoubtedly appeal to fans who adore cat games or those seeking out an entertaining challenge within baby and operation games. This thoughtfully crafted game offers an unusual play experience that successfully unifies family fun with an appealing puzzle-solving twist.
What are the best online games?