Ancient Fighters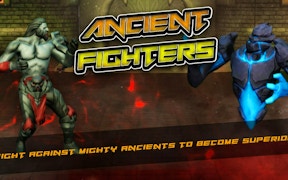 Ancient Fighters
Delve into the adrenaline-pumping, heart-thumping world of Ancient Fighters, a standout amongst other battle games that masterfully combines elements of boxing games and monster games to deliver a truly exhilarating experience. Take control of your destiny as you seize the reins of a formidable warrior and prepare to go head-to-head against mythical beasties from days gone by.
The world of Ancient Fighters opens a portal for you to cross swords with mighty ancients – a feat that requires not just brawn but also the sharpest of reflexes. Each opponent comes with its unique brand of power and poise, demanding you to strategize and fight your way up to the grand fighter's throne. So, whether you're a newbie or an old hand at fighting games, this game will have you hooked.
Engage in both single-player mode for an immersive solo adventure, or duke it out in player vs player mode for some spirited rivalry. Pit yourself against formidable foes and find out if your fighting spirit can outshine your adversaries' brute strength.
Ancient Fighters is not just about punching above your weight; it's about finesse, strategy, and the will to win. Stepping into this brutal arena will test your nerves like no other boxing game ever has. It's here where terrifying creatures from untold monster games come alive, challenging you in ways unimagined.
To sum it up, Ancient Fighters offers an intoxicating concoction of visceral battle scenes, ruthless opponents, and relentless fights that will leave even the most seasoned gaming veterans gasping for breath! Enjoy this whirlwind journey - the glory of victory awaits those brave enough to take on the challenge.
What are the best online games?