Among.io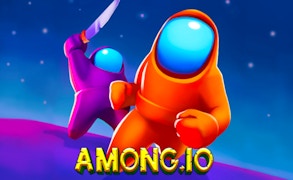 Among.io
Immerse yourself in the thrill and excitement of Among.io, a game that blends fun games, survival games, and snake games into one exhilarating package. It's a fabulous world of endless adventure, where boredom is vanquished and excitement is just a click away.
The objective of this game is deceptively simple yet incredibly engrossing. Like a ravenous beast in an ever-changing wilderness, your mission is to consume as much food as possible, growing your crowd and increasing your power in the process. In the grand scheme of survival games, it's either eat or be eaten.
What sets Among.io apart from a sea of ordinary fun games isn't just this primal struggle for survival. It's the element of competition that truly sets your pulse racing. Fight to outwit, outplay, and outlast other players online, eyeing their flocks like a hungry snake eyeing its prey. Can you grow your crowd into the mightiest on the battlefield?
Aided by invaluable power-ups like speed boosts and size doublers, you're not just surviving in this game - you're thriving. And the satisfaction of devouring a rival player's smaller crowd whole? That's just the cherry on top of this delightfully chaotic cake.
Among.io, as it turns out, is far more than just another addition to the multitude of snake games. It's an experience that promises non-stop fun and heart-pounding action at every turn.
If you haven't yet experienced the wild ride that is Among.io, here's my advice: don't wait another moment. Join in now and prepare for one unforgettable adventure.
What are the best online games?