Amogus.io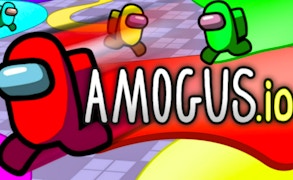 Amogus.io
Step aboard the YRZ-15 space station, immerse yourself in a chaotic universe where survival is the ultimate skill, and become the hero of Amogus.io, a game that rightly deserves its spot among top-tier fun games. An engaging concoction of skill games and survival games, it's an addicting ride through cosmic warfare loaded with unexpected twists and pulsating action.
The premise is simple yet compelling. As part of the legendary General Among Us army, your mission is to capture territory and fend off encroaching enemy impostors. The core mechanics pack a punch, providing a layered gaming experience that tests your quick thinking, stealth tactics, and ruthless aggression. Mess with enemy trails when they veer outside their borders, but beware - you're just as vulnerable when you stray from yours.
In Amogus.io, the stakes are high. Every moment spent outside your borders intensifies the risk but also opens up opportunities for conquest. Aggressive players will revel in this high-wire act of risk and reward, while more cautious gamers can choose to hunker down and fortify their own territory.
The aim to capture the vast expanse of the space station keeps you on your toes. The constant threat of being overthrown adds a palpable tension that only heightens as you inch closer to total occupation. And rest assured, nothing beats the exhilarating thrill of finally donning that coveted crown!
In conclusion, Amogus.io nails the fusion between fun and strategy. It's a well-crafted world that's simple to understand but challenging to master. Whether you're an ardent fan of survival games or you simply love unwinding with some skill-based fun games, Amogus.io delivers an unmatched gaming experience that's worth every second of playtime.
What are the best online games?