Always Go Up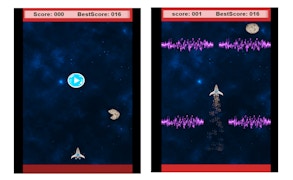 Always Go Up
Description
Set in a world of electrifying danger, Always Go Up is a captivating arcade game that would send your adrenaline rushing. As the captain of your ship, your mission is to continuously ascend, while skillfully navigating your way through menacing electric barriers. With every level, the danger rises but so does the fun!
How to Play
To play Always Go Up, utilize your keyboard's arrow keys or touch controls for mobile gamers. Simply guide your spaceship upwards and avoid touching the electric barriers as they will cause damage to your ship and end the game. The game's progress is measured by how high you ascend.
Tips and Tricks
Don't rush! Patience and precision are key to climb higher in Always Go Up. Electric barriers move at different speeds - use this to plan your movements. Also, always keep an eye on the position of upcoming barriers.
Features
Engaging Gameplay: The 'climb high' objective keeps players engaged and entertained.
Lively Visuals: Colorful graphics and electric barriers add a thrilling visual aesthetic.
User-friendly Controls: Simple keyboard arrow controls or easy touch controls for mobile users.
Infinite Levels: There's no end! Play as much as you like without any limit.
What are the best online games?