Airplane Parking Mania 3D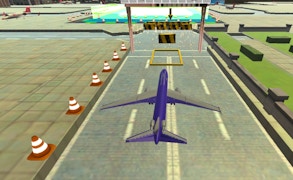 Airplane Parking Mania 3D
Experience an adrenaline rush like no other as you take control of the tarmac in the riveting Racing Game, Airplane Parking Mania 3D. This game intricately weaves elements of classic driving games, parking games, and airplane games to create a unique fusion that keeps you on the edge of your seat.
Become the unsung hero of the airport, navigating jumbo jets with incredible precision, reminding one of their favorite thrilling skill games. From taxiing on runways to parking on designated slots, every task demands calculated movements and precision, making it more than your average simulator games.
In Airplane Parking Mania 3D, players are not just driving a vehicle but flying hefty airplanes. The controls are intuitive with WASD or Arrows for driving and flying while Mouse manages Throttle. Wield these controls effectively and you'll soon be maneuvering your plane as if it were an extension of yourself.
Parking an airplane poses challenges that traditional parking games don't offer. The size and sensitivity of these mammoth machines make them hard to control but when successfully parked, the sense of achievement is unparalleled.
The 3D graphics are both sleek and realistic, immersing gamers in a world full of towering airplanes and bustling airports. Functionality meshes with aesthetics as gamers explore this dynamic environment that's always filled with high-stakes challenges.
Airplane Parking Mania 3D tests your precision skills in a new way by challenging you to undertake the unenviable task of parking massive planes. If you have an affinity for skill-based driving and parking games that rely on precision rather than speed, then buckle up for this intense gaming flight!
In conclusion, Airplane Parking Mania 3D is unmissable for any fanatics of parking or simulator games. This game sets itself apart from the other titles in its genre by presenting fresh challenges and offering a distinct gaming experience filled with thrilling moments.
What are the best online games?