Aidol K-pop Adventure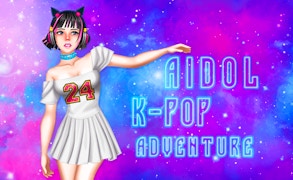 Aidol K-pop Adventure
Description
Welcome to Aidol K-pop Adventure, a unique immersion in the glamorous world of K-pop! You will join an all-star Korean pop group and help them prepare for their shows. This game demands not just talent, but meticulous attention to detail. From flawless choreography to perfect makeup, every element is crucial. Dress-up your characters in trendy outfits and transform them into shining stars on stage!
How to play
Use your mouse or touchscreen to navigate through various stages of preparation - from selecting costumes to applying makeup. Click on different items or colors to apply them to your characters. As you progress, new styles and options will unlock, allowing you to create more sophisticated looks. The game rewards creativity, so don't be afraid to experiment.
Tips and Tricks
Remember, K-pop is all about style and precision! To really excel, keep up with modern trends in fashion and makeup. Try different combinations until you find the one that suits each character best. Don't forget about the accessories - they can make a huge difference!
Features
Vibrant and colorful graphics that truly capture the spirit of K-pop.
An extensive selection of costumes, makeup, and accessories.
The chance to join a virtual Korean pop group.
A user-friendly interface suitable for kids.
What are the best online games?