AI Soccer Training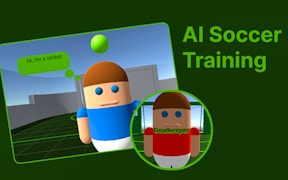 AI Soccer Training
Description
In AI Soccer Training, prepare to venture into an exceptional football experience, structured around honing your abilities as a goalkeeper or striker. You'll share the field with AI-controlled teammates, enhancing your performance in an immersive digital football setting. Expect a real-time challenge as your team goes toe-to-toe against highly-skilled AI adversaries.
How to play
To gain mastery in this game, choose either the goalkeeper or the striker mode. Control your player using the directional keys and use spacebar for action - saving goals or taking shots. Time your moves accurately to perform well, and score points to progress levels and enhance your skills.
Tips and Tricks
Familiarize yourself with the AI's playing style. Predictability is advantageous, so learn to anticipate their moves for efficient goalkeeping or striking. Keep practicing; repetition is key to mastering timing and improving reflexes in this dynamic soccer game.
Features
Dual-Role Gameplay: Opt to play as a goalkeeper or striker.
Sophisticated AI: Compete alongside or against skilled artificial intelligence players.
Evolving Difficulty: The gameplay gets more challenging as it progresses, keeping you constantly engaged.
Skill Improvement: Perfect place for honing your virtual football skills.
What are the best online games?
Tags