Agent Fight 3D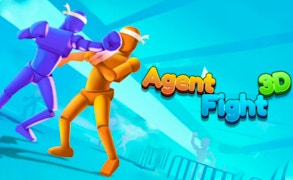 Agent Fight 3D
Step into the thrilling world of Agent Fight 3D, an enthralling battle game that pushes the envelope of interactive fighting excitement. This game takes you on a captivating journey where every punch, kick, and grapple matters. It perfectly combines the intensity of boxing games with the unpredictable charm of stickman games, creating a riveting playing experience like no other.
In the adrenaline-packed realms of Agent Fight 3D, you are allowed to choose from an extensive selection of skills, each with its unique edge and dynamic. The game mechanics are refreshingly intuitive: you hold the screen to launch an attack and release when the red warning text appears to defend or dodge. It's like a digital dance-off where your timing, strategy, and quick thinking determine whether you're the star performer or just another dancer in the crowd.
This game is not just about random button mashing; it's a thoughtful blend of strategy and action that encourages you to adapt and improve, much like in real-life wwe games. Your journey to becoming a fighting legend is filled with intense duels against diverse enemies that require clever combat strategies and sharp reflexes.
Agent Fight 3D is not just a game; it's a test of survival in a world where only the strongest fighters prevail. It's time to step up and hone your fighting skills. Embrace your inner superhero and take on challenges that will test your mettle to its extremes. Join us in this electrifying voyage where every victory takes you one step closer to fighting glory!
What are the best online games?