ABC game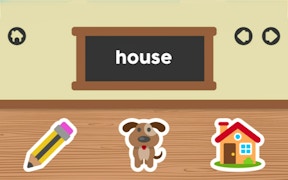 ABC game
Immerse yourself in the linguistic playground of ABC game, a masterpiece in the realms of word games, educational games, and learning games for kids. Developed by the innovative team at Nau.kids, ABC game brilliantly leverages the potential of technology to foster learning in children, harnessing the power of images as an effective teaching aid.
Designed as a digital periscope into a world filled with words and images, ABC game beautifully unites education and entertainment, morphing into an enjoyable learning hub for kids. It flawlessly utilizes cell phones, tablets, and computers - turning them into potent learning tools that keep the little ones engaged in a delightful way. The gameplay is intuitive and kid-friendly, thus encouraging children to navigate and learn at their own pace.
ABC game, like its name promises, is far from being just another run-of-the-mill game in the kiddie section - it is an interactive adventure that introduces children to new words every day! Each level has its unique image which aids memory retention - ensuring that your child's vocabulary grows along with their imagination.
This is not just a game; it's a smart interactive tool designed for young learners. It lies at an enviable intersection of fun and education - making learning incredibly enjoyable. Whether you're looking for games for toddlers or junior learners, ABC game truly fits all sizes!
In conclusion, if you're on the lookout for innovative kids' educational games, your search should end with ABC game. A treasure trove of words and concepts awaits your child's discovery - transforming their screen time into meaningful learning time.
What are the best online games?