ABC ANIMAL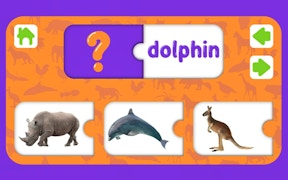 ABC ANIMAL
Welcoming you to the remarkable world of ABC ANIMAL, a game specifically tailored to stimulate and elevate the learning experience of our young audience. It is a shining gem in the genre of kids' puzzle games, bolstering their cognitive skills while delivering an unparalleled amount of fun.
There's a sense of adventure as children navigate through this bright educational landscape, engaging in animal games and cracking mind-bending puzzles. Each level introduces them to a new member of the animal kingdom. Indeed, ABC ANIMAL takes word games to a lofty new level, converting learning into an enthralling journey.
In this rapidly advancing digital age, ABC ANIMAL sets itself apart by providing top-tier learning games. With each swipe on their tablet or tap on their mobile phone, children are introduced to an array of animals with their corresponding names.
In addition to the game's captivating gameplay mechanics, what indeed makes it a masterpiece in the universe of games for kids, is its charming aesthetics - bright colors and cute animal characters that keep children engaged and entertained throughout their educational quest.
Kudos to Nau.kids for their extraordinary work in crafting this enchanting educational puzzle game. Their commitment towards making education fun shines through every pixel. ABC ANIMAL is not just another addition in the gamut of educational games, but it is an experience, one that pushes the boundaries of learning and entertainment.
Packed with compelling gameplay and an immersive educational environment - ABC ANIMAL stands as a beacon proving that learning doesn't have to be boring, but can be as exciting as gaming itself!
What are the best online games?