99 Balls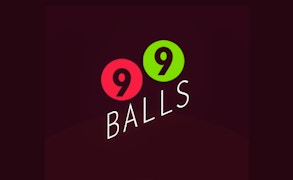 99 Balls
You don't need a lot of fancy toys and technology to have fun, sometimes all you need is something as simple as 99 Balls. There's a very basic satisfaction that comes from the act of bouncing a ball on the floor or against a wall, catching it, and then repeating. You could do this for ages and it would keep you entertained for as long as you want. This game asks what it would feel like if you were able to bounce multiple balls at once with the guarantee that they would come back to you. You'll have to play to find out.
About 99 Balls
This is a game where all you have to do is look at it and you instantly understand what it's all about. It takes the act of bouncing a ball and then combines elements of Breakout and pinball in order to make it a more entertaining and challenging experience. What makes things easier is that it doesn't require much input in order to get going but with each bounce and the more balls you get, the situation becomes more puzzling. It's not just about bouncing, it's about bouncing in the best way possible to keep things going. The pressure of Space Invaders can be felt as you look for your next bounce.
How to Play
99 Balls is a 2D arcade game about bouncing balls against spheres using the mouse. By dragging the cursor, you can determine the trajectory of your balls and then release the left mouse button to bounce. The goal is to bounce the ball against colored spheres that will descend from above in order to break them and clear up space. The spheres will descend between bounces and if one of them reaches the bottom, the game ends.

Each sphere has a number on it indicating how many bounces it needs in order to break. There are glowing rings that will increase the number of balls that will bounce by one for each one touched. Balls will always bounce in straight lines, not having any arcs or losses in momentum. When they return to the bottom of the screen, you'll need to bounce them again.
For an additional challenge, you can attempt to collect Stars that will occasionally appear among the spheres. These will add to your score and have the potential to reduce the number of all the spheres on the screen.
Tips and Tricks
The longer the game goes on, the more you'll need to rely on angles in order to take out as many spheres as you can with one bounce. Ideally, you'll be able to bounce your balls through gaps in the spheres that allow them to bounce wildly in confined spaces to do a lot of damage.

Game Details
Developer: YouNaGames
Platforms: Web Browser (PC and mobile) and Android
Languages: English

Gameplay Footage
FAQs
Can I play 99 Balls on my phone?
This game is available to play through a Web Browser on mobile and there's also an app version available for Android.
Games similar to 99 Balls
Due to its simplicity and form, this game fits into the Hyper Casual and Ball Games categories on GamePix. Other games in those spots include Rope Help, Wheel Duel, Cerkio, and Red Ball.
What are the best online games?
Tags