8 Ball Pro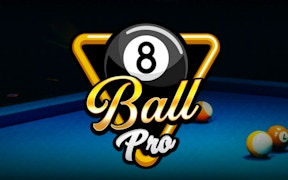 8 Ball Pro
Looking to take your love of ball games to a whole new level? Brace yourself as we dive into the competitive world of 8 Ball Pro, a game that redefines the generic concept of pool games. Tailored for the pros, it allows you to pit your wits and skills in an enchanting version of 8-ball pool where your proficiency is put to the ultimate test.
8 Ball Pro is not just another addition to the pedigreed lineage of pool games. It's a full package boasting a user-friendly interface, impressive graphics, and a captivating gameplay dynamic that holds you on tenterhooks till the very end. Challenge your friends or the computer to a skilful duel amidst an auditory-visual spectacle. This Pro version will demand that you bring out your A-game. Sink all your balls in style before seizing the black 8 ball for victory!
The tantalizing allure of ball games comes alive with this game, as every shot you make and every move you master, brings you one step closer towards becoming an undisputed champion. The juxtaposition of strategy and skill is perfectly harmonized, making each gaming session an adrenaline rush.
In conclusion, 8 Ball Pro stands out as one-of-a-kind among pool games. It offers casual gamers and hardcore connoisseurs alike a challenging yet gratifying experience. Pick up your cue stick, aim, shoot and reign supreme in this riveting clash of wits and skill. Whether you're up against AI or another player, one thing's for sure; only the best will triumph in this riveting world of competitive pool.
If you're looking for an immersive experience that combines strategy, precision and excitement on one platform - look no further than 8 Ball Pro. So go ahead! Take up the challenge and stake your claim in this enthralling arena of pool games.
What are the best online games?
Tags