8 Ball Pool With Friends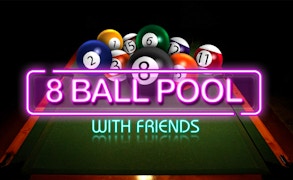 8 Ball Pool With Friends
Experience a rush of adrenaline as you dive into the fiercely competitive world of 8 Ball Pool With Friends. This immersive game takes the classic pastime of pool and heightens it with challenging gameplay, stellar graphics, and the ability to compete against friends in real-time. As one of the top pool games available online today, this is an experience that effortlessly blends skill, strategy, and just the right amount of luck.
What sets this game apart from other similar ball games are its clearly defined rules. The first ball potted will determine if you're playing for Spots or Stripes, keeping things straightforward and engaging. Ensure you aim for the lowest numbered ball on the table, as it helps pave a clear path to victory. However, remember that your final objective is the 8-ball; pot it right, and taste sweet victory.
The level of realism in 8 Ball Pool With Friends is strikingly apparent in its physics. Each spin has been meticulously designed to mimic real-life movements, creating an immersive and authentic pool-playing environment. The casual theme further enhances gameplay by keeping things lighthearted and enjoyable for all players.
The thrill of competition reaches new heights with its PvP 1-vs-1 multiplayer gameplay. Challenge your friends or foes from around the globe in real-time matches. And what's more? Engage in friendly banter or discuss strategies with fellow players using the chat box function.
In conclusion, 8 Ball Pool With Friends is not just a game - it's a community where anyone can join without registration. It presents pool enthusiasts with a platform where they can challenge their skills and engage with like-minded individuals from around the world. Don't just read about it - dive into this pool gaming adventure today!
What are the best online games?
TAGS