8 Ball Pool Stars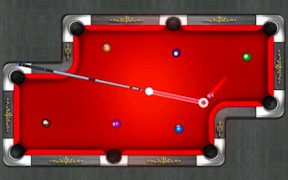 8 Ball Pool Stars
If you're on the hunt for an exceptional blend of ball games and pool games, your quest just might end with 8 Ball Pool Stars. 8 Ball Pool Stars is not your typical pool game; it is unique, immersive, and impressively addictive!
The game represents a distinct intersection of strategy, skill, and the timeless charm of pool that sets it apart from your run-of-the-mill gaming experience. It adds a new twist to the usual billiards action, ensuring every second spent behind the cue stick is satisfyingly strategic.
8 Ball Pool Stars' distinct style is immediately appealing. The slick graphics and smooth animations breathe life into each shot, while the dynamic physics engine ensures that every move is lifelike and plausible. The attention to detail in the gameplay mechanics reinforces this title's commitment to delivering an authentic pool experience wrapped up in virtual convenience.
The fun doesn't stop there - this game's breadth of content is impressive. The more you play, the more you unlock - new cues, new tables, new challenges – ensuring that 8 Ball Pool Stars remains fresh no matter how many hours you clock in.
This game isn't just for those familiar with this classic parlor pastime. Novices need not shy away from 8 Ball Pool Stars. It effectively melds tutorial elements within its gameplay to help newcomers find their feet while keeping seasoned players engaged with its depth.
In conclusion, whether you're an enthusiast of ball games, a connoisseur of pool games, or simply on a lookout for something engagingly different in the gaming universe, do yourself a favor and sink some time into the richly rewarding world of 8 Ball Pool Stars.
What are the best online games?
Tags