8 Ball Pool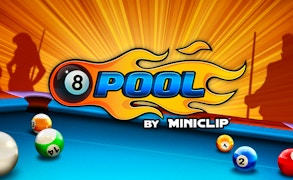 8 Ball Pool
Pool is a common game that's pretty easy to find if you check out some local bars or clubs, but if you're looking to stay in, you can play 8 Ball Pool. This takes the classic version of the game and makes it accessible from your screen. It also provides a generous top-down view that most pool players would love to have in competitive play. You may be a floating pool cue playing against another floating pool cue but this is more than you need to feel like you're actually playing the game. Take your time, take aim, and take your best shot at sinking and winning.
About 8 Ball Pool
Not all of us can afford to have a pool table or necessarily have the space for one which is why it's nice to turn to video games. Pool is a game that is considered a technical sport due to a number of factors at work. While playing through, you'll get to see and use these factors to your advantage in order to learn and find ways to win. The UI is very helpful in teaching you about angles and force which are needed to make smart and successful shots. It may be helpful enough to get you to what you've learned in a real game.
How to Play
8 Ball Pool is a digital version of its real-life counterpart that you can play using only the mouse. By moving the cursor around, you can choose which ball you want to target. You'll also get a readout of the projected path that the ball will take when hit from certain angles. Once you've selected the ball, hold the left mouse button and pull back on the cue to determine the power of your shot. Let it go to see how your shot plays out. Based on certain rules, you may also get the chance to move the cue ball around the table for a better position.

The game uses standard pool rules. There are stripes and solid balls on the table, with whichever balls you have to sink being determined which is the first ball sunk by either you or your opponent. The goal is to sink all of your balls before your opponent sinks theirs and then sink the 8 balls to win the game. Errors will grant you or your opponent additional shots and they include things like shooting and not hitting a ball, sinking the cue ball, and hitting/sinking the opponent's balls. If either you or the opponent sinks the 8 ball before sinking your designated balls, it's an instant loss.
Tips and Tricks
The best prep you can do is to read up on some of the official rules of pool so you know what setups to avoid. The UI is extremely helpful with plotting out pretty accurate angles, so use it wisely. Also, be warned that the power in shots differs dramatically and light shots should really only be used for precision or close quarters.
Game Details
Developer: Miniclip
Platforms: Web Browser (PC and mobile), iOS, and Android
Languages: English

Gameplay Footage
FAQs
Is 8 Ball Pool an online game?
If you set up an account on Miniclip or play the app version on your mobile device, you can compete against other players online in real time.
Games similar to 8 Ball Pool
Considering the concept of the game, you can find it in the Pool and Sports Games categories of GamePix. You can also find Tennis Masters, Slime Ball, Billiard Golf, and Speed Pool King.
What are the best online games?
TAGS