4 Games For 2 Player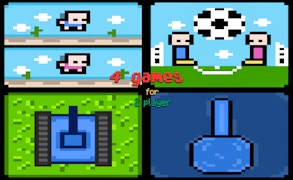 4 Games For 2 Player
Description
Get ready for an epic duel with 4 Games For 2 Player, a series of entertaining mini-games designed to test your skills against a friend. With four different games embedded in one, you can enjoy tactical battles, fast-paced races, and strategic competitions. Each game brings a new challenge and the chance to prove your domination. Remember, it's not just about winning but also about having fun while doing it!
How to play
The controls are easy to grasp: you generally navigate using your keyboard arrows or the W,A,S,D keys. The first game involves dodging obstacles where the last man standing wins. The second is all about scoring points. Aim carefully in the third game to survive the tank battle, and outsmart your friend by taking the best shots in the fourth game. Each mini-game demands different skills - agility, accuracy, strategy and timing.
Tips and Tricks
Practice makes perfect! Keep playing each mini-game until you learn their mechanics thoroughly. Always remember that timing is crucial, especially when dodging obstacles or battling tanks. Consider every move carefully in strategy-based games. And most importantly, have fun!
Features
Variety: Four different games to enjoy.
Multiplayer: Play against your friends for endless fun.
Pixeled graphics: For those who love retro gaming.
User-friendly controls: Easy navigation and control system.
What are the best online games?
Tags