3D Ball Fall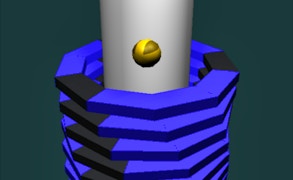 3D Ball Fall
Prepare to plummet into a mesmerizing vortex of fun with the sensational 3D Ball Fall, a worthy addition to the arcade genre. Embodying the finest elements of ball games, hyper-casual games, and skill games, this offering is an addictive blend of adrenaline-pumping excitement and strategic thrill.
In 3D Ball Fall, your objective is simple yet challenging: avoid the black blocks as you navigate your ball through an endless well of excitement. You'll have to rely on quick reflexes and sharp instincts to ensure your survival in this ever-dynamic game environment. Each fall is nothing short of a roller-coaster ride that will leave you on the edge of your seat!
Packed with dynamic physics and intuitive controls, 3D Ball Fall offers gamers a rollercoaster ride through 3-dimensional space. The gaming action is intense, requiring players to show off their skill by deftly maneuvering their ball past ominous black blocks that threaten their journey downwards. Achieve exhilarating high-speed combos for that extra dose of thrill and rack up points to secure an unbeatable high score.
The beauty of this hyper-casual offering lies in its simplicity - no convoluted controls or over-complicated storylines here! Yet don't be fooled; beneath the accessible veneer lies a challenging gameplay experience that will test even seasoned gamers. As much as it's about reactions, it's also about strategy and foresight - planning your fall is as important as executing it.
To sum up, 3D Ball Fall delivers an addictively simple yet incredibly compelling gaming escapade that will undoubtedly captivate lovers of ball games and hyper-casual games alike. Perfect for quick gaming sessions or long hours of excitement, this game proves once again that simplicity can indeed yield immense enjoyment.
What are the best online games?