2D Dark Racing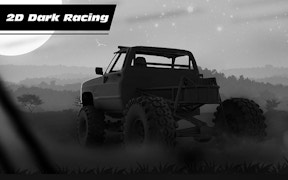 2D Dark Racing
If you have a thrill for car games, a passion for truck games, or simply a love for driving games in general, 2D Dark Racing surely has something in store for you. Venturing into the world of nighttime racing, this interactive delight impeccably blends adrenaline and strategy.
The moment you turn on your engine, your venture into the dark begins. You're not just up against formidable competitors but also the concealment that comes along with darkness. Races are not just about speed here but also about smart navigation around slopes, and dim obstacles, injecting a refreshing amount of complexity to this typically straightforward genre.
Much like other engaging car games and truck games, 2D Dark Racing goes beyond conventional racing. It requires meticulous planning and resource management - collecting gas to keep your vehicle going is as much a part of the game as crossing the finish line first. This challenge adds an intricate layer rarely found among average driving games.
2D Dark Racing takes pleasure in rewarding courageous moves too. Execute thrilling back and front flips to earn cash and buy crucial upgrades that have significant impacts on races. 2D Dark Racing is never just about arriving at the finish line – it's a thrill-filled journey where risks often yield rewarding results.
In conclusion, if you're searching for a game that offers more than mindless acceleration, look no further than 2D Dark Racing. Its unique approach to familiar game dynamics and enticing reward system sets it clearly apart from other run-of-the-mill driving games. Switch on your headlights and prepare yourself for an exhilarating ride through the dark.
What are the best online games?