21 Blitz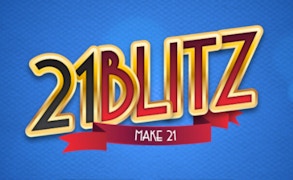 21 Blitz
Immerse yourself in the pulsating world of card gaming with 21 Blitz, a unique blend of casino games and solitaire games designed to challenge your strategic thinking and quick decision-making skills. If you thought Black Jack was thrilling, wait until you dive into this high-speed version where not only is your quick wit put to the test, but your memory will be challenged too.
Drawing from the familiar rules of Black Jack, 21 Blitz adds a twist of speed and strategy. The objective of the game is simple – match your cards to add up to 21 as quickly as possible across four available slots. However, it's not as easy as it sounds. With two decks of cards to complete, each card you use and every card you discard counts towards your victory – or defeat.
The anticipation builds as you keep an eye on the dwindling deck while simultaneously calculating possible combinations in your head. It's a race against time that keeps you on the edge of your seat and makes 21 Blitz a compelling addition to solitaire games.
But beware, this exhilarating game isn't just about speed; it also requires strategic foresight. Each move should be carefully calculated as poor decisions could lead to running out of options faster than expected. And remember, success favors those who can remember which cards have already been played.
On the surface, 21 Blitz may seem like any other casino game, but dive deeper and you'll find an addictive strategic card game that keeps you coming back for more. Ready for a test of speed, strategy, and memory? Then jump into the adrenaline-fueled world of 21 Blitz.
In conclusion, whether you're a fan of casino games or a solitaire enthusiast looking for a twist in your usual gameplay, 21 Blitz offers an immersive and strategic gaming experience that is both challenging and enjoyable.
What are the best online games?