2048 Pucks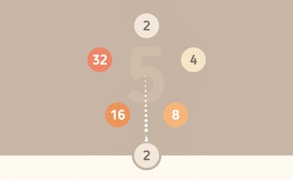 2048 Pucks
Imagine a world where your number-crunching skills and your knack for strategy come together in a riveting game. A world where every move you make matters. This is the realm of "2048 Pucks". Part of the addictive 2048 games genre, this intriguing blend of bubble shooting and 2048 will captivate you. Diving deeper into the realm of Skill Games, Number Games, and Math Games, 2048 Pucks offers a unique gaming experience that leaves you yearning for more.
This game proves that numbers are more than just digits for calculations – they can be dynamic puzzle pieces in one of the most engaging math games around. 2048 Pucks cleverly combines elements from popular Pool Games with numerical puzzles to create an epic clash of strategies that truly test your mental agility.
Your mission, if you choose to accept it, is to merge numbers while keeping less than 12 pucks on the stage at a time. A seemingly simple task at first glance but as any seasoned veteran knows, 2048 isn't just a game - it's a battle of wits!
The adrenaline rush you feel as you manipulate pucks, merging numbers left, right and centre is incomparable. The satisfaction derived from watching those digits multiply is simply exhilarating. But remember, while victory is sweet, it's not easily achieved in this game that's all about strategy and skill.
In conclusion, 2048 Pucks showcases creativity at its best: taking two well-loved game concepts and fusing them into one enthralling number challenge. It reignites your love for number games and redefines the traditional math games as we know them. If you are looking for innovative gameplay with an intellectual twist, then 2048 Pucks should be your next digital indulgence! Dive into the world where numbers meet strategy; merge pucks and aim for victory!
What are the best online games?