2 Player Police Racing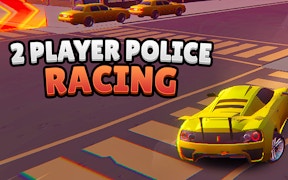 2 Player Police Racing
Embark on a high-octane adventure with 2 Player Police Racing, an exciting addition to the world of car games that sets you at the heart of exhilarating chase scenes and thrilling competitions. This adrenaline-fueled competition is not just a game, it's an all-out war on four wheels where only the fastest and most agile survive.
Imagine the thrill of being behind the wheel in one of the most engaging driving games on the market. Every race brings with it a fresh chance to prove your mettle against formidable AI opponents or, even better, against your friends in its 2 player mode. Step into the world of police car racing where every second counts and every decision you make could be what separates victory from defeat.
2 Player Police Racing beautifully marries strategy with speed. The game demands more than just fast reactions; it requires clever decision-making as well. Outpace your opponents, avoid traffic, and use power-ups tactically to gain an edge. With its realistic physics and breathtaking graphics, this game offers an immersive gaming experience that will keep you coming back for more.
Including features loved by fans of police games, 2 Player Police Racing gives cop car enthusiasts a taste of law enforcement combined with high speed thrills. It's not just about winning races; it's about outmaneuvering your opponents in breathtaking car chases that will leave you on the edge of your seat.
No matter if you're a fan of solo play or prefer to engage in competitive 2 player games, this title has got something for everyone. So strap in, fire up those engines, and prepare for a thrill ride like no other with 2 Player Police Racing – because in this game, speed is everything.
What are the best online games?