2 Player 3D City Racer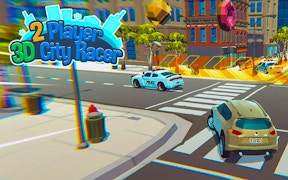 2 Player 3D City Racer
Experience the thrill of urban car racing like never before with 2 Player 3D City Racer. This game isn't just about speed, it's a testament to the exhilaration of outrunning opponents amidst vast cityscapes. If you are a fan of car games, this one is sure to rev your engines.
The game is set in vibrant recreations of cities like New York and San Francisco. Each level invites you to explore different corners of these virtual worlds as fast as your tires can burn the asphalt. What sets this game apart from other driving games, however, is its lack of a time limit and vehicle damage - a feature that makes it incredibly engrossing and sets it apart from traditional police games.
This makes 2 Player 3D City Racer a perfect blend of exciting gameplay and stress-free driving adventures. The fun part about this amazing racer is that how far you want to push your car's speed or how long you want to partake in the racing frenzy, entirely depends on you!
If you love pushing pixelated car pedals, then slide into the digital driver's seat with a friend. As the name suggests, you're not alone in this mad dash through city streets. You can bring along another player for a thrilling urban exploration ride that makes this game one of the best 2 player games.
Come get lost in the bright lights, towering skyscrapers and winding roads of 2 Player 3D City Racer. It offers an adrenaline-fueled joyride that will keep you coming back for more!
What are the best online games?