15 Puzzle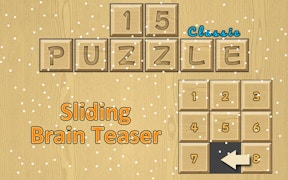 15 Puzzle
Unleash your inner puzzle-solving beast with the all-time classic, 15 Puzzle! A tantalizing treat for all serious brain games lovers, 15 Puzzle invites you to shuffle and juggle tiles around a grid until you reveal a captivating picture of some of our planet's most fascinating creatures.
This innovative game not only entertains but also educates, making it one of the to-die-for learning games. Have you ever wondered what it would be like to piece together the gorgeous image of a roaring lion or a playful dolphin in record time? 15 Puzzle gives you just that chance. The choice of images is designed not only to give you an adrenaline rush but also help sharpen your observation and concentration.
In the world of puzzle games, 15 Puzzle stands out for its unique design and orientation towards animal games. Each image blends into the game perfectly, challenging your mind in a way that keeps you on your toes. Play against the clock and try to assemble these beautiful creature's images as fast as possible. Every tile move brings you closer to the complete image, transforming this game into an exciting race against time! The stakes get higher as you choose more intricate and complex images.
The core goal of this incredible game is simple - complete the image in the least time possible. But don't let its simplicity fool you. The game designers have cleverly incorporated strategic thinking and patience into this journey. Exercising your brain has never been more fun!
In conclusion, whether you're an ardent lover of puzzles or just looking for a fun way to relax after a busy day, 15 Puzzle offers endless entertainment value. Immersive gameplay harmoniously combined with stunning animal graphics makes this one brain game impossible to put down! Perfect for kids and adults alike, 15 Puzzle is the ultimate merger of education and playtime!
What are the best online games?