10x10 Block Puzzle Game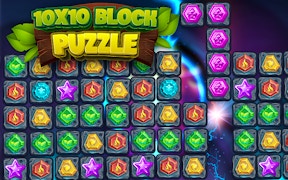 10x10 Block Puzzle Game
Immerse yourself in the addictive maze of the 10x10 Block Puzzle Game, a remarkable innovation in the realm of brain games that takes you back to those Tetris-filled days with a modern twist. As easy as it is engaging, this brain-enhancing pursuit will have you hooked on its intriguing dynamics and endless playability.
In this captivating game, nostalgia meets novelty with a unique combination of Tetris-style gameplay and sleek design. The rules are simple, yet endlessly challenging. The goal is to drag vibrant jewel blocks onto the game board to form complete lines, allowing them to disappear and thus prevent an overcrowded board. Run out of space for your current three blocks, and it's game over. It's more than just stacking shapes together; it's a fierce competition against your own strategy and timing.
The 10x10 Block Puzzle Game stands head and shoulders above most other block games, commendable for its effortless blend of stimulating puzzles with captivating gameplay. Every move requires precision, strategy, and foresight - stretching your mind in exciting new directions. This game isn't just turbo-charged fun; it's also a fantastic mental workout that caters to those who enjoy pitting their wits against challenging scenarios.
A thrilling addition to any puzzler's arsenal, the 10x10 Block Puzzle Game provides endless hours of entertainment that will not only challenge your cognitive abilities but keep you blissfully engaged. Whether you're a seasoned Tetris gamer or a casual player seeking an enthralling new challenge amongst Tetris games, this one's not to be missed!
What are the best online games?