100 Speed Bumps Challenge Simulation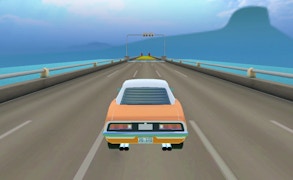 100 Speed Bumps Challenge Simulation
Welcome to the adrenaline-pumping world of 100 Speed Bumps Challenge Simulation, a standout gem in the universe of car games, driving games, and thrilling drifting games. Replete with realistic graphics, high-stakes challenges, and rock-solid gameplay, it's more than just a journey; it's an electrifying battle against speed bumps and physics.
Ever wondered what would transpire if you bolted over 100 speed bumps at a blistering speed of over 100 miles per hour? With this game, fantasy morphs into reality as you sit behind the wheel of multiple supercars and test their grit against relentless bumps. Flaunting an intuitive control scheme (WASD/Arrows for driving, C for camera changes), this game thrives on its simplicity, making it easy to navigate despite inherent high-speed chaos.
Unlike other typical racing simulator games, the focus here is not on competing against other drivers, but battling the track itself. The primary objective is to survive harsh speed bumps while maintaining breakneck velocities. The thrill heightens as the count of consecutive speed bumps increases; each bump tests your control and sends your car flying into spectacular drifts.
The game also offers ample variety through its vast repertoire of supercars. Each car boasts distinct handling styles and varying reactions to the daunting speed bumps. This adds a layer of strategic depth encapsulating car selection and takes you beyond mere instinctive gameplay.
In conclusion, 100 Speed Bumps Challenge Simulation seizes your attention with its unique premise. Despite being a part of the overcrowded genre of car games and driving simulators, it manages to carve out its unique identity through sheer innovative gameplay mechanics and thrilling action sequences. Thus, if you are seeking heart-pounding action amidst a sea of mundane racing titles, this game serves as your ultimate pit stop. Drive hard or go home!
What are the best online games?