Zipline Valley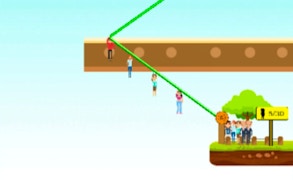 Zipline Valley
Welcome to the world of Zipline Valley, a thrilling addition to the realm of Hyper Casual Games that will truly test your reflexes and strategic thinking. This fun game cleverly combines elements of puzzle and brain games, delivering a truly unique gaming experience.
Set against the backdrop of a dangerous valley, the objective is simple yet exciting - rescue your friends by zipping them across to safety. The gameplay revolves around drawing lines with your mouse, creating a path for your passengers to zip along. The longer you press the mouse, the more friends you can ferry across the perilous valley, adding an interesting twist to this fun game.
The innovative game mechanic, largely based on whipping a rope, offers an additional layer of complexity. The drawn line behaves like a rope – it can be manipulated and moved around blocks to avoid dangers. This offers an intriguing blend of creativity and strategic thinking, making Zipline Valley one of the standout brain games.
Intricately designed with captivating graphics and smooth controls, Zipline Valley ensures an engaging gaming experience for both novice players and seasoned gamers alike. The adaptive difficulty curve keeps you enthralled as you progress through different levels , providing endless amounts of entertainment.
Overall, Zipline Valley scores high on every aspect – gameplay mechanics, strategic depth, user interface and visual appeal making it one of the best Hyper Casual Games out there. Perfect for game lovers looking for a unique blend of fun games interspersed with challenging brain games that test their problem-solving skills.
If you're looking for a game that strikes an ideal balance between relaxed hyper casual gaming and stimulating mental challenge, then Zipline Valley is just what you need! Dive in and experience the thrill of this adventurous rescue mission while giving your mind a rewarding workout!
What are the best online games?