Yui Christmas Adventure 2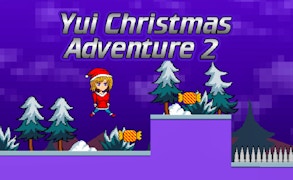 Yui Christmas Adventure 2
Description
Immerse yourself in the enchanting world of Yui Christmas Adventure 2, a captivating 2D Christmas-themed platformer. Embark on a thrilling journey as Yui, an anime girl with a mission to gather candies while evading vicious snow and flying monsters. Navigate through perilous traps like ground saws and spikes in your quest to reach the blue flag. Experience increasing challenges through eight distinct levels in this exhilarating sequel to the original Yui Christmas Adventure.
How to play
Control Yui's movements using the "WASD" or "Arrow" keys. Boost your jumping capabilities by pressing the "W" or "Up" arrow key twice for a double jump. Reach for the blue flag at each level to progress further into the game. But be wary of ominous snow monsters, flying monsters, and dangerous obstacles along the way.
Tips and Tricks
Perfect your timing for double jumps to avoid landing on spikes or saws. Keep an eye out for snow monsters' patterns and maneuver around them. Remember, collecting all candies before reaching the blue flag boosts your score significantly.
Features
Vivid 2D graphics enhancing the festive mood
A unique Christmas themed platformer game
A variety of challenges with increasing difficulty levels
Straightforward controls, easy to pick up but hard to master
What are the best online games?