Wrestle Jump 2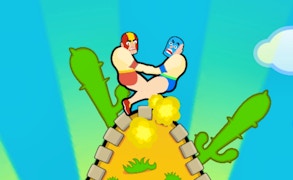 Wrestle Jump 2
If you're a fan of battle games and 2 player games, you should prepare to immerse yourself in the dynamic world of Wrestle Jump 2. This thrilling fighting title is not just another sports game, it's an adrenaline-fueled test of strategy and skill.
In the second installment of the popular Wrestle Jump series, players are treated to a more refined and polished experience. The game has elevated its genre by showcasing breathtaking graphics, smooth animations, and an exhilarating gameplay experience that never fails to captivate its audience.
A noteworthy aspect of Wrestle Jump 2 is its engrossing two-player mode. This feature makes it one of the most enjoyable 2 player games available online. It's a fierce battle between two contenders, testing their strength, agility, and cunning to clinch victory. Kindling friendly yet intense rivalry, this gameplay element brings a newfound sense of excitement to traditional battle games.
The game's controls are intuitive and straightforward, making it easy for beginners to get into the groove. However, mastering these controls to execute powerful moves requires time and practice. In other words, Wrestle Jump 2 offers an immense level of depth despite its straightforward premise.
All in all, Wrestle Jump 2 triumphs as a standout in the realm of battle games with its engaging 2-player mode feature. Its successful blend of strategy and skill-based gameplay makes it highly addictive and replayable. So whether you're seeking nail-biting competition or merely looking for casual fun with friends, Wrestle Jump 2 guarantees an electrifying experience like no other.
What are the best online games?