Wrestle Jump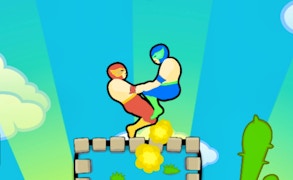 Wrestle Jump
If you're on a quest to find adrenaline-pumping, fast-paced battle games that you can enjoy with a friend, look no further than the engaging world of Wrestle Jump. A world where brawn meets brains, this game is more than just a square-off between fighters; it's a thrilling blend of strategy and action that demands mastery over the rules of physics.
A standout among other 2 player games, Wrestle Jump brings to the table an unbelievable level of excitement. Your typical wrestling moves won't cut it here: the genius of this game lies in its make-or-break physics engine. As an expert wrestler, your battle skills are going to be tested in whole new ways.
Every gamer knows the sheer joy and intense rivalry that arises from 2 player games, and Wrestle Jump captures this spirit perfectly. Whether it's your best friend or arch-nemesis on the other side, there is no room for error; only the astute can claim victory. This isn't merely a battle; it's a total showdown where your knowledge about wrestling games and dexterity combine to provide intense gameplay like no other.
The genius of Wrestle Jump lies in its simplicity yet challenging dynamics. You are thrown into an arena where physics rules supreme; your moves, jumps, and strikes need to be calculated precisely based on momentum and angle. The result? A breathtakingly tense faceoff with your opponent that will push both of you to your limits.
In conclusion, Wrestle Jump elevates itself above other battle games through its inventive approach to gameplay mechanics. It tests not just your reflexes but also your intellect in a way few 2 player games can match. So if you fancy yourself as an expert wrestler or want an intriguing challenge, prepare to slide into the digital ring with Wrestle Jump!
What are the best online games?