Worlds Hardest Game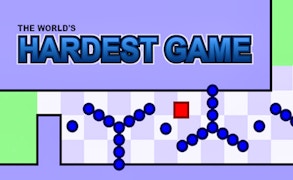 Worlds Hardest Game
Some of the earliest single-player games were credited as being very difficult and now there's been a resurgence of difficult games with World's Hardest Game trying to claim its title. The challenge of this game is one of navigation as what it does is present a series of obstacle courses across contained areas. You're no hero or wronged party, you're just a square or at least someone guiding a square through all the danger of the level. It's sort of like one of those games where you have to move a device along a path without touching the sides, but with more sides coming at you.
About World's Hardest Game
Whenever games use a title that seems extreme it's usually an exaggeration to grab attention, such as The Impossible Quiz series. This game may or may not be what it says, but it's depending on who you ask. For some, this game could be a slight distraction while for others it could be the greatest challenge that they've ever faced. Our fascination with difficulty comes from our own sense of achievement. We want to defeat something considered difficult so that we can prove not to others, but to ourselves the feats that we're capable of accomplishing.
How to Play
World's Hardest Game is a top-down 2D affair controlled entirely with the keyboard. You can have two control schemes based on your preference.
Controls
W/Up Arrow - Move Up
S/Down Arrow - Move Down
A/Left Arrow - Move Left
D/Right Arrow - Move Right
The goal of the game is to beat the levels by guiding the little red square to the end of each one. Levels are typically designed as enclosed areas and pathways that have obstacles scattered about. The main threat is small blue orbs that can be arranged in various forms from individual movements to large formations. If the red square even slightly touches a blue orb, it will be eliminated and have to respawn.
Safe areas in the levels are indicated by a light green color. Both the starting and end points share this color with some of the longer levels including extra green spaces serving as checkpoints. There will also be levels containing small yellow orbs acting as Coins and you'll need to collect all of them in order to complete the level. You don't have to collect the game in a sitting and can return to the level you left off at from the main menu screen.

Tips and Tricks
The square can move in all directions, but is much slower than you realize which you'll need to get used to in order to succeed. Before making your move, observe the blue orbs carefully and try to pinpoint areas in the level where they don't pass through. With moving orbs, try to move with them but note that they usually move faster than the square.

Game Details
Developer: Stephen Critoph
Platforms: Web Browser (PC and mobile), iOS, and Android
Languages: English
Gameplay Footage
FAQs
What is really the World's Hardest Game?
Many would say that this game is certainly difficult, but a majority would reference titles from the Souls series by From Software and old NES titles like Ninja Gaiden as being among the hardest games.

Games similar to the World's Hardest Game
After playing this for a while, you'll understand why this game fits into the Addictive and Cool Math Games categories on GamePix. Also in these categories are games like Helix Blitz, Pop It Master, Angry Gran, and King Of Thieves.
What are the best online games?