World's Hardest Challenge: Fill Fridge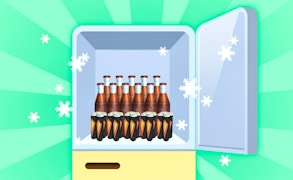 World's Hardest Challenge: Fill Fridge
Prepare your neurons for an electrifying thrill, as you tackle one of the most challenging brain games available online - World's Hardest Challenge: Fill Fridge. This isn't just a game; it's a testament to your problem-solving abilities and strategic planning skills. Are you ready to take the challenge?
Unlike many fun games that include unnecessary complexities, this puzzle game possesses a charm in its simplicity. The mission is clear - fit diverse food items into a refrigerator, utilizing every possible space. It is like playing Tetris, but with dairy products and vegetables instead of geometric shapes. However, it is much harder than it sounds.
World's Hardest Challenge: Fill Fridge offers escalating difficulty levels that will push your cognitive abilities to their limits. Don't be surprised if you find yourself obsessing over how to squeeze in a bunch of bananas among milk cartons and cheese blocks!
The hook of the game doesn't simply lie in its difficulty but rewards player's patience and persistence with an unparalleled sense of accomplishment. Witnessing your haphazardly placed goods morph into neat stacks inside the fridge is nothing short of satisfying.
This game isn't just about fun. It's about optimizing space strategically, honing your decision-making skills, learning from mistakes and improvising solutions - all while attempting to conquer the world's hardest challenge.
In conclusion, World's Hardest Challenge: Fill Fridge truly lives up to its name, delivering an engaging experience that blends strategy with excitement effectively. By giving this game a go, you are not only signing up for hours of amusement but also an opportunity to test and enhance mental agility. So are you ready to take on the challenge?
What are the best online games?
TAGS