World Cup Penalty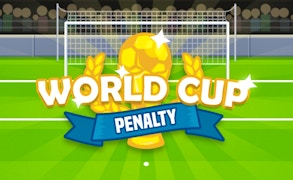 World Cup Penalty
Enter into the adrenaline-pumping, heart-throbbing world of sports with World Cup Penalty, one of the most engaging soccer games that takes you through a roller-coaster ride of emotions. Witness an unmatched virtual gaming experience with this football game that mirrors the essence and soul of the beautiful game.
The thrill begins as you get a chance to compete with the best football teams from all four corners of the world. A battle not just against the opponents, but against pressure, time, and tension is what makes World Cup Penalty a cut above other soccer games.
In World Cup Penalty, your mission is not just to play but to conquer. Match after match, you have to strike right at the heart of your opponent's goal and emerge victorious. And there's nothing more fulfilling than walking up to that final match, armed with determination and skill. The journey towards clinically finishing each penalty shot and inching closer to lifting the World Cup trophy has an excitement that words can barely do justice.
The functions are user-friendly, gameplay vividly realistic - creating an environment where it's not just about winning but experiencing every bit of football magic. It taps into every player's competitive spirit, making it a perfect choice for those passionate about football games!
Chase glory as you dive headfirst into this grand spectacle! If you're craving for a game that stands out among other soccer games for its sheer vibrancy and exhilarating gameplay then World Cup Penalty should definitely be on your list! So, brace yourself as it's time to take that decisive penalty which could lead you to global dominance! It's time to step onto that pitch and show what true champions are made of!
What are the best online games?