Words Search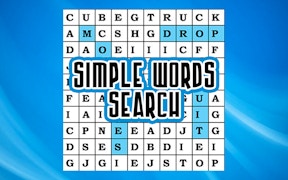 Words Search
As an aficionado of word games, the latest addition to my arsenal of intellectual amusement is the beguiling Words Search. This engaging game effortlessly combines elements of brain games and scrabble games, offering a potent stimulant for the mind within a beautifully designed arcade environment.
In Words Search, the primary objective is deceptively simple. The player has to uncover all the hidden words within a thematic puzzle. However, this seemingly straightforward task transforms into an exhilarating race against time, as you strive to solve the puzzle in micro-seconds less than your previous best. The competition with oneself creates an indomitable urge to keep going, driving you deep into this linguistic labyrinth.
What sets Words Search apart from other word games is not just its HD graphics that make each play session visually pleasant, but also how it masterfully converts leisure time into a cognitive workout session. Such an integration of pleasure and mental exertion rarely comes in such an elegant package. To add to the suspense, a word list at the bottom of your screen serves as your only guide through the dense forest of letters. This hint system ensures you are never entirely lost yet constantly challenged.
In addition to being absolutely free, Words Search offers a smooth and easy-to-navigate user interface ensuring that players can focus more on strategizing word search rather than manoeuvring through complicated controls. The game repeatedly proves that simplicity is indeed the ultimate sophistication.
In conclusion, Words Search is far more than just another game in the word games genre; it's a medley of excitement, intellectual stimulation and visual delight. Does it offer gratification for casual gamers seeking light entertainment? Yes. But will it also satisfy hardcore puzzle solvers looking for their next big challenge? Absolutely!
What are the best online games?