Wordoku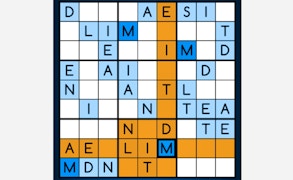 Wordoku
Dive into the mesmerizing world of Wordoku, an ingenious fusion of puzzles and word games that challenges your intellect while entertaining you endlessly. This HTML5 Logic Game, developed with an innovative concept, offers a refreshing break from the classic Sudoku, introducing letters and words to the mix.
Fans of word games will find themselves instantly captivated by Wordoku's distinctive gameplay which revolves around forming words instead of numerical patterns. However, don't let this deceive you into thinking it's all about language - this game is essentially about logic and problem-solving, making it a perfect fit for enthusiasts of brain games.
Wordoku's sleek design and user-friendly interface create an immersive gaming experience that will keep you hooked for hours on end. With three different difficulty levels: Easy, Medium, Hard; it caters to a broad spectrum of gamers - from beginners dipping their toes into the pool of puzzle games to veteran players seeking a formidable challenge that truly tests their mental agility.
Merging the analytical prowess required for Sudoku with the linguistic dexterity needed for crosswords, Wordoku strikes a brilliant balance between tradition and innovation. This game serves as an exquisite testament to how classic puzzles can be reinvented with a touch of creativity.
To sum up, Wordoku is not just another run-of-the-mill puzzle game but a brain-stimulating journey that delights equally in its journey and destination. So if you are ready to stimulate your mind while having loads of fun, now is the time to step into the challenging yet engaging universe of Wordoku.
What are the best online games?
Tags