Word Sauce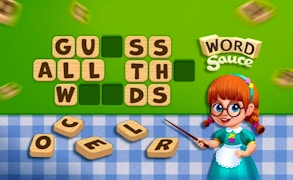 Word Sauce
Step into a cerebral labyrinth with Word Sauce, an ingenious confluence of brain games and word games. The game's tantalizing challenge is to find hidden words from combinations of letters, akin to creating a delectable sauce from various ingredients!
The straightforward and intuitive gameplay immediately draws you in. Just as a conductor masterfully guides an orchestra with the lightest touch of their finger, you too will find yourself deftly connecting word cookies (letters), creating words as easily as breathing. It proves that simplicity is truly the ultimate sophistication.
Stay vigilant and don't miss out on those elusive extra words hidden in the letter grid. Finding them fetches you bonus gold, much like unearthing buried treasure. This rewarding feature ensures that every gameplay session of Word Sauce leaves you feeling victorious!
In this digital age where physical distance holds no barrier, Word Sauce allows you to invite your friends for a rousing game session. While emulating the warmth of camaraderie, this feature also serves up daily prizes - truly the cherry on top!
Stuck on a particularly challenging level? Fear not, for there are multiple lifelines at your disposal. You can either use hints or ask a friend for help. What's more, Word Sauce is also available across multiple platforms including Facebook, Android, iOS & Amazon.
This makes it incredibly accessible - whether you're lounging at home or enduring a long commute. A perfect blend of entertainment and mind workout, Word Sauce is suitable for all ages and guaranteed to keep you hooked! So roll up those sleeves and dive into the gripping world of Word Sauce today!
What are the best online games?
TAGS