Word Holiday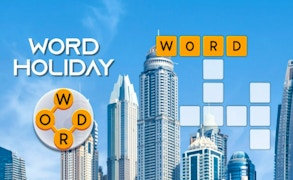 Word Holiday
Escape into a blissful world of linguistic challenge, with the enchantingly intriguing Word Holiday - a top-tier entrant in the realm of addictive word games. Perfectly blending holiday travel adventure themes with delightful word puzzles, Word Holiday takes you on a captivating voyage of leisure and learning.
This game is an artistic masterpiece that embraces the exhilarating world of brain-stretching fun. Word Holiday brilliantly exploits the potential inherit in brain games, pushing your mental boundaries by tasking you to connect letter combinations into hidden words. And with each word discovered, another level conquered, another layer of this enchanting journey is unveiled.
Fans of word cookies, cross word puzzles, and other word connector games will find themselves entranced by this game's sublime interface and rewarding gameplay. But Word Holiday isn't just competing as one of the most addictive games; it excels as an impressive example of educational entertainment. While you're immersed in your holiday adventure, scouring landscapes for hidden words, your brain is receiving a workout that could rival any gym session.
Incorporating the best elements of educational games in its design, Word Holiday not only stimulates and challenges your mind but also catalyzes your vocabulary growth unbeknownst to you. From novice learners to seasoned linguists, all can find new words to learn and love during their holiday-themed travels.
In conclusion, whether you're seeking a tranquil escape to unwind or a challenging game to stretch your language skills impressively than before, look no further than Word Holiday. Relish the relaxing puzzles while sharpening your mind - this is not merely gaming but an enriching experience for all passionate players out there.
What are the best online games?