Winter Soccer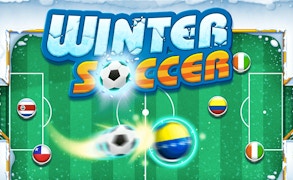 Winter Soccer
As winter sweeps over our landscapes, it's time to switch gears and find new ways to enjoy our favorite sports. Introducing Winter Soccer, a game that combines the chill of winter with the thrill of soccer and football games. This is not just another addition to the plethora of regular soccer games or football games; it's a fascinating breath of fresh air in the world of ball games.
Snowy fields and pine trees set the stage for a match where you have to drag, aim, and release to shoot the soccer ball into the goal post. The first player to score three goals takes home the victory. A stunning blend of strategy and dexterity, Winter Soccer is unique amongst its counterparts in the genre of sports games.
The game offers an engaging twist by allowing you to choose your side from 32 different nations, enhancing the global appeal. However, do not be fooled by its simplicity as it boasts a smart and calculative AI that will test your mettle at every turn. Be prepared to think on your feet, plan your moves carefully and play hard as you take each kick.
A handy tutorial ensures newcomers are not left standing in the cold. It guides you through every step enabling players of all levels to enjoy this thrilling game. The backdrop of an exciting soccer stadium sets just about the right environment for all soccer or football enthusiasts out there.
In summary, Winter Soccer is more than just a ball game - it's an embrace of winter with your favorite sport! So put on those virtual boots and get ready for a kick-off in the snowy fields!
What are the best online games?