Wild West Solitaire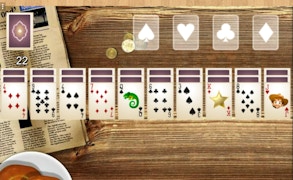 Wild West Solitaire
There are few experiences as alluring as stepping into the cowboy boots of a Wild West gunslinger, and even fewer that let you do so while indulging in one of the most cherished classic genres of gaming - card games. Enter Wild West Solitaire, an entrancing fusion of yesteryear's charismatic western charm with the timeless appeal of card sorting and field clearing. It's more than just a solitaire game. It's a thrilling journey into an iconic era, where you can almost hear the saloon doors swinging open.
In Wild West Solitaire, you find yourself in the immersive settler environment of an old-time saloon, your mind sharpening as you strategize to sort cards and clear the table. From the creaking wooden planks beneath your feet to the jingling coins on green velvet tops, this game truly encapsulates that unmistakable wild west ambiance.
If card games are your bread and butter, or if you're a newbie looking to delve into this evergreen genre, Wild West Solitaire caters to you. The game expertly integrates various levels of difficulty catering to veterans and beginners alike while retaining the authenticity of traditional solitaire games.
This game truly shines in its ability to combine strategy with immersive storytelling. Much like how peanut butter complements jelly, Wild West Solitaire perfectly marries fun gameplay with a compelling wild west narrative. With each cleared row, players dive deeper into this richly woven tapestry of western lore.
To sum up, if you're seeking an enchanting blend of history-infused setting and engaging gaming mechanics in your solitaire pursuits, look no further than Wild West Solitaire. It's not just about playing cards; it's about living out your wildest cowboy adventures one victory at a time!
What are the best online games?
TAGS