Wild West Freecell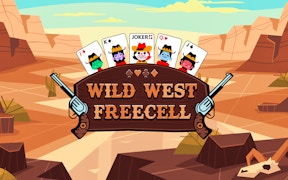 Wild West Freecell
Description
Engage in a dynamic card game with Wild West Freecell. The game combines classic solitaire elements with a unique Wild West theme. You are tasked with building down stacks in alternating colours on the tableau, using the available Freecells to temporarily hold your cards. The game introduces a special feature of pistol action cards that allows players to instantly move any card on the tableau to the front of a column.
How to Play
Your main goal is to build down cards on the tableau using alternating colours. If you're at a deadlock, use the Freecells at the top left of your screen as temporary storage for your cards. However, you should always consider freeing up these cells as soon as possible. Collect pistol action cards for bonus movements that allow you to move any card from a tableau position to the start of its column.
Tips and Tricks
Plan your moves carefully and keep track of all cards in play with particular focus on pistol action cards. Be sure not to fill up all your Freecells unless absolutely necessary, as having more space in them increases your opportunities for making vital moves, especially when dealing with difficult card sequences.
Features
A creative blend of classic solitaire and new gameplay mechanics
Pistol Action Cards offering additional strategic depth
A unique Wild West thematic setting
Detailed instructions provided for new players
Interactive UI design for easy navigation and controls
What are the best online games?
Tags