Watercraft Rush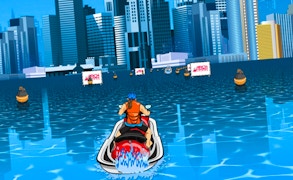 Watercraft Rush
Welcome to the heart-pounding, pulse-racing world of Watercraft Rush, one of the finest representatives in the realms of driving games and skill games. This title isn't your standard racing fare; it drops you into the driver's seat of a high-speed watercraft, charging through three distinct worlds filled with intricate tracks and a myriad array of challenging obstacles.
The game's HTML5 Racing Game platform offers an optimized gaming experience. It starts with a simple yet compelling premise - get your engine roaring and conquer each track before the sand runs out in your hourglass. However, Watercraft Rush catapults beyond the ordinary with its escalating levels of difficulty that seamlessly blend into each other, forming a compelling loop of addictive gameplay.
In this exhilarating world of racing games, your skills are regularly put to test. With every twist and turn, every leap and slide, you're tasked with showcasing your unmatched abilities in navigating through this labyrinthine water maze. Every second counts when racing against time while avoiding obstacles that stand between you and glory.
But here's where it gets interesting! Watercraft Rush manages to embody the true essence of skill games. Unlike many driving games where speed is king, this game challenges players to leverage strategy, precision and quick reflexes - a refreshing contrast that adds an intriguing layer to its gameplay dynamics.
The rush isn't just in traversing through these winding tracks at breakneck speed; it's also in overcoming these well-placed challenges under ticking time pressure is what sets Watercraft Rush apart in the ever-competitive genre of driving games.
In conclusion, for those who enjoy high-octane thrills and hairpin twists woven into strategic gameplay, there's no looking past Watercraft Rush - an exciting blend within the sphere of driving games and skill games alike!
What are the best online games?
Tags