Water Flow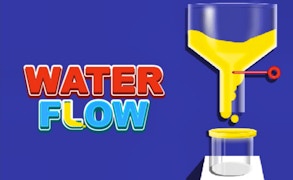 Water Flow
If you're a fan of brain games and Hyper Casual Games, then the new puzzle game, Water Flow, is a must-try. Designed to test your problem-solving prowess, this game is both engaging and incredibly addictive. In fact, it's so easy to get lost in it that you'll find yourself playing for hours on end.
Water Flow doesn't just challenge your grey cells; it also keeps you entertained with its pleasing aesthetics and smooth gameplay. Despite being incredibly straightforward to play, this pull-the-pin puzzle game doesn't easily relinquish its grip on your attention. You'll find yourself immersed in figuring out the best way to adjust pins by pulling or dragging them and making your way through a complex network of pipes.
The beauty of Water Flow lies in the balance it strikes between simplicity and complexity. The initial stages ease you into the mechanics of pulling or dragging pins but as you progress the levels increase in difficulty, thereby ensuring that you're always stimulated and never bored. The insistence on strategizing is what sets this game apart from others in the brain games genre.
In this era of hyper-casual gaming, where instant gratification is often pursued over deep engagement, Water Flow swims against the current. It invites players to slow down, strategize, experiment with different solutions and savor their successes. If you've been longing for a pull-the-pin puzzle game that serves up a satisfying challenge without becoming overwhelming, your wait ends with Water Flow.
All said and done if mind-bending puzzles are your cup of tea then Water Flow is a riveting stopover in the universe of Hyper Casual Games. So stimulate your cerebrum and let those mental gears turn because with Water Flow it's time to dive into an ocean of unending puzzles!
What are the best online games?