VW Beetle Jigsaw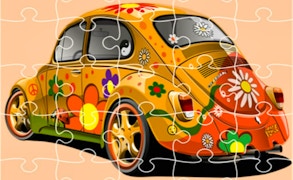 VW Beetle Jigsaw
When it comes to Games for Kids, few titles understand the magical combination of fun learning and immersive gameplay like VW Beetle Jigsaw. This enchanting addition to the roster of online car games offers both challenge and entertainment, superbly packaged within a colorful, engaging interface.
From the very first puzzle piece you place in this riveting game, you'll be driven on a journey into the world of classic VW Beetles through twelve mesmerizing images. As an avid fan of car games, I was impressed by the depth and attention to detail provided in each puzzle image.
VW Beetle Jigsaw asks your child not only to put pieces in the right places but to think, strategize, and make critical decisions. Choose the level of difficulty that perfectly suits your child's abilities, safe in the knowledge that there is no time limit in this adventure-filled quest.
The joy of solving jigsaw puzzles is amplified as there isn't just one image but a series of them to unlock. Each solved puzzle peels away at a layer, revealing another fascinating image of the iconic VW Beetle and adding an extra layer of excitement and anticipation.
This game stands out not just as an entertaining way for kids to pass their time, but also as a thought-provoking exercise that stimulates their mental prowess. It truly captures the essence of what makes puzzle games for kids worthwhile.
In conclusion, for parents looking for an ideal blend of fun and educational content in car games, your search ends with VW Beetle Jigsaw. This online puzzle game promises unlimited hours of joyous learning and problem-solving adventures for your young ones.
What are the best online games?
Tags