Volley ball Game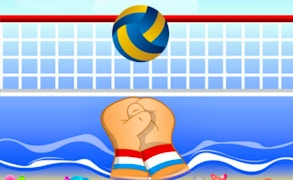 Volley ball Game
Welcome to our review of the latest sensation in sports gaming, the thrilling Volley Ball Game. An exciting addition to the world of ball games and skill games, this volleyball game is more than just a typical court recreation, it's a whole new level of sports genre gaming that will keep you on your toes.
Targeted especially for kids and sports enthusiasts, Volley Ball Game is a unique mix of fun and strategy where players require both physical agility and sharp instincts. The gameplay - simple yet enticing - you need to hit the ball with your hands and gather stars on your way to earn points.
But, therein lies the challenge. Each time the ball fails to connect with your hands and hits the ground, you lose. This absorbing combination of skillful manipulation and fast-paced action makes Volley Ball Game stand out among other ball games. Plus, the aim is not merely to keep the ball off the ground but also ensure it touches the twinkling stars.
Skillfully crafted graphics add another layer of charm to this game. Each star you reach for has a shiny allure designed to catch your eye and increase your drive for points. The interface mimics an actual sports field, enhancing your gaming experience as if you're playing an intense real-life volleyball match.
In conclusion, Volley Ball Game serves up an incredible mix of fun gameplay mechanics wrapped in an impressive graphical package. Its subtle complexity only adds more depth, appealing immensely to gamers who love a challenge in their skill games. If you're a fan of sports-based or skill-testing games, we highly recommend checking out Volley Ball Game!
So step onto that virtual court, serve that ball high into the digital sky, get those stars, score those points and dunk yourself neck-deep into this amazing new wave in the ocean known as the Volley Ball Game.
Volley Ball Game
, where sports meet skills in a field of stars!
What are the best online games?
TAGS