Underwater Car Racing Simulator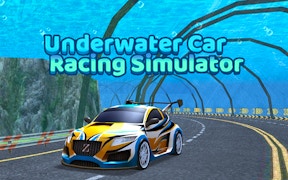 Underwater Car Racing Simulator
Immerse yourself in the breathtaking world of driving games with the exhilarating aquatic adventure that is Underwater Car Racing Simulator. As a high-octane fusion of car games and simulator games, it plunges players into a unique and enthralling environment where speed, skill, and a dash of daring are key.
Underwater Car Racing Simulator is not your average driving game. This mesmerizing spectacle sets itself apart by blending the thrill of car games with the precision of simulator games in an entirely new setting - beneath the waves. Imagine hurtling through the depths of azure oceans, negotiating twists and turns on tracks as slippery as eels - that's exactly what awaits you here.
The game puts your driving skills to the ultimate test. The underwater landscape is both beautiful and treacherous, filled with winding courses that require perfect precision to navigate. One wrong move could mean skidding off course or even a disastrous crash. You'll need nerves of steel and reflexes like a shark to rule these underwater streets.
Underwater Car Racing Simulator offers an abundance of tracks to race on, each one teeming with stunning visual effects that transport you into the heart of the ocean. Illuminated by ethereal undersea lights and accompanied by cool sound effects, each level heightens your adrenaline levels further than the last.
In conclusion, if you're seeking a fresh take on car games or an exciting new addition to your collection of simulator games, delve into Underwater Car Racing Simulator. It's guaranteed to send your racing pulse into overdrive.
What are the best online games?