Unblock Taxi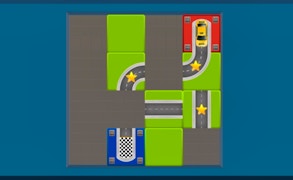 Unblock Taxi
As an avid gamer and a connoisseur of block games, brain games and car games, I have recently stumbled upon a gem that perfectly fuses all three genres into one - Unblock Taxi.
This game is an innovative take on car slide puzzles, crafting a unique niche within taxi games. If you are like me and crave the mental stimulation that comes from roll and unblock games, you will find Unblock Taxi to be your newest addiction.
The premise of Unblock Taxi is as mesmerizing as it is challenging. The tile puzzle format forces you to think creatively, strategically maneuvering your taxi through a grid filled with obstacles. This refreshing blend of car games and block puzzles doesn't simply rely on quick reflexes—it's an ideal mental workout in the guise of vibrant mechanics.
The smooth gameplay is an absolute delight for fans of car games, whilst the elements borrowed from block games make each level an intriguing labyrinth waiting to be solved, providing ample opportunities for brain stimulation. This amalgamation of genres makes Unblock Taxi stand out from other typical taxi games.
This game doesn't just tick all the boxes for being enjoyable, it also proves itself as a perfect choice for those seeking to enhance their cognitive skills. Unblock Taxi solidifies its position as an immersive experience for all taxi game enthusiasts while proving itself as a worthwhile contender in the realm of brain-teasing block games.
To sum it up, Unblock Taxi is by no means just another entry in the genre of car or block games. It takes these concepts to new heights, introducing mind-bending puzzles that leave you wanting more. So give your grey cells a workout and get ready to slide your way through this exciting game.
In this review, I tried my best to highlight how Unblock Taxi masterfully combines aspects of block puzzles, brain teasers, and car-based gameplay into an engaging package that stands out among other taxi-themed offerings.
What are the best online games?