Ultimate Word Search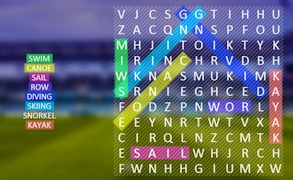 Ultimate Word Search
Immerse yourself in the enthralling world of Ultimate Word Search, a top-tier puzzle game that's as exceptional as it is captivating. This masterpiece of a game adds a thrilling twist to the classic word search genre, presenting an experience that blends adventure, mystery, and mental agility all within its intricate gameplay.
As we delve into the vocabulary-challenging realm of Ultimate Word Search, one aspect that stands out is its simplicity. It's designed to be picked up by anyone, whether you're a seasoned gamer or a first-time player. Featuring hundreds of words across multiple categories, this game caters to a wide array of interests and knowledge bases. From biology to pop culture references, from cooking terms to historical trivia─ every category is meticulously curated to ensure hours upon hours of mentally stimulating entertainment.
The core concept of word games has been elevated in Ultimate Word Search, transforming it from being merely a time-killer into an intellectual journey filled with challenge and reward. This word-search extravaganza tests your ability not just to find words but also your prowess in unscrambling letters and identifying patterns. The sense of accomplishment you feel after spotting these elusive words hidden within jumbles is truly unparalleled.
In the vast landscape of puzzle games available today, what sets Ultimate Word Search apart is its commitment towards creating an engaging and challenging experience for its players. The simple premise belies the complexity depth contained within each level, making every accomplishment truly rewarding.
In conclusion, if you are passionate about puzzle games, have an inclination towards word-games or simply love getting your gears grinding with intellectual challenges, then Ultimate Word Search proves itself as an unmissable gem in your gaming collection. Prepare for a spellbinding journey through words like no other and remember - in this world of word search, every letter counts.
What are the best online games?
TAGS